Celebrating Nottinghamshire Day 2021
Tuesday, September 7, 2021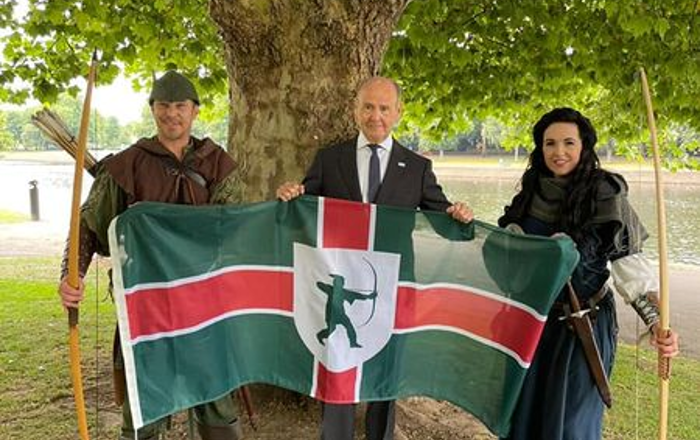 We have had a very busy summer at Notts Outdoors and one very special event took place on the 25th of August. This event marked the first ever Nottinghamshire Day and our very own Notts Outdoors Robin Hood (Robert Brackley) and Lady Marian (Katie Smart) were privileged to be invited along with other esteemed guests to the flag raising event at County Hall.
Robin and Marian witnessed the raising of the county flag and spoke to East Midlands today and Notts Tv about the importance of Nottinghamshire Day.
It is hoped that the 25th of August will mark an annual celebration of what makes our county great and a day to promote tourism and local businesses and of course  the legend of Robin Hood. It is to also hoped that this day will support local communities in understanding  the traditions and the history of the places they live, work and enjoy their family and leisure time in.
Robin and Marian had the pleasure of celebrating this day alongside the other guests invited to the event by the Chairman of the County Council, Councillor Mike Quigley MBE and the Lord-Lieutenant of Nottinghamshire, Sir John Peace.
"It has been a fantastic day and we are extremely proud to represent Notts Outdoors and the Legend of Robin Hood through the work we do at events such as this, and in our work through the Notts Outdoors day centres. Portraying  such iconic characters is a privilege and we hope we can attend future events to continue the legacy of Nottinghamshire greatest Outlaw!"- Katie Smart, Outdoor Education Tutor, Sherwood Forest