Notts Outdoors Presents Outlaw Days for Home Educated Families
Thursday, October 22, 2020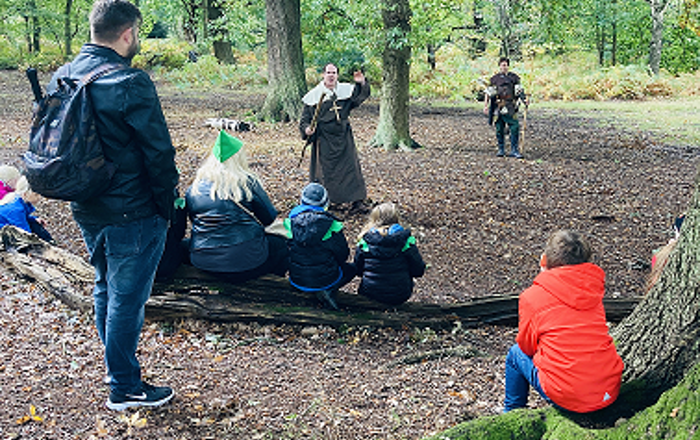 After a long summer of lock down and restrictions, the Forest was finally alive with the sound of laughter and curiosity as our team at Sherwood welcomed home education families to their Outlaw days. The days were designed to bring the legend of Robin Hood to life and to give the children the opportunity to learn in the most inspiring setting, the heart of the forest.

Joined by Robin Hood, Lady Marian and Friar Tuck, the children were immersed in an action-packed day of story-telling, history, Heraldry, crafts and soft archery.

An outlaw camp provided the young outlaws with a wonderful look into weaponry of the time and the clothing and tools Robin and his merry band would have used.

Designing the day to run within Covid guidelines proved challenging but Katie, our tutor at Sherwood commented "Although we were restricted on the number of places we could offer, this gave us the opportunity to run days that allowed us to offer more attention to each family bubble. We had more time to expand our teaching and the days actually covered a huge amount of content."

The home education families had high praise for the days, and we received plenty of feedback on the days.

"Brilliant activities and some high quality learning.  Thoroughly engaging experience on the outlaw day. We loved it" Belia

"We had the most amazing day today at the home ed outlaw day. Since we have come home it is all we have spoken about. I've lived in Nottinghamshire all my life and come home with abundance of new knowledge. Myself and the kids absolutely loved it. Thank you." Katherine

For more information about packages for home educated families please contact nottsoutdoors@nottscc.gov.uk.